Holly Jarman, PhD
John G. Searle Assistant Professor of health management & Policy, University of Michigan

Health researchers often talk about the social determinants of health. My role is to learn about and help others to understand the political determinants of health -the impact of politics, governance and policymaking on health outcomes.
As a faculty member at the University of Michigan School of Public Health, I teach students from a wide range of professional and personal backgrounds about political systems and their relationships to personal and community health, health equity, and access to social justice.
My research comes from seeking to understand the same questions, whether I am researching the impact of market rules and trade regulations on health or trying to understand why states choose the tobacco control policies that they do. You can find some examples of my work below.
More bios and photos.
Download my full cv.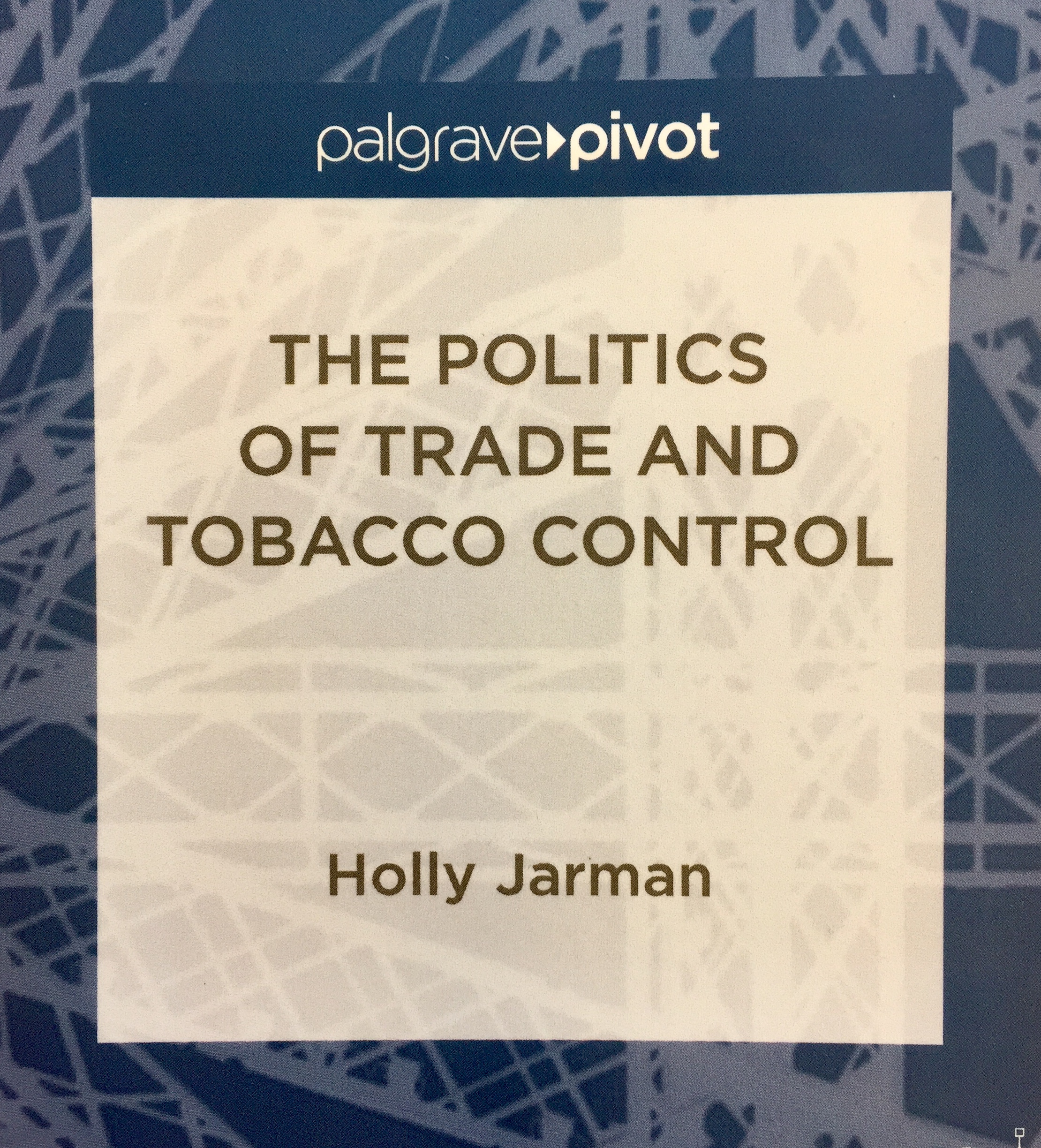 Palgrave Macmillan, 2015
How do trade and investment rules impact health policy spaces? Analyzing challenges to policies enacted by Australia, Canada, the United States, the European Union and Uruguay, I argue that the global trading system has narrowed the scope of conflicts over tobacco control, to the advantage of tobacco firms.
What I Teach
Introduction to Public Health Policy
Health Management & Policy Residential Masters Program
An introduction to the public health system and the key policy issues confronting public health practitioners. Students learn about the range of possible public health policy interventions, the ideological and evidentiary motivations for introducing them, and the impact of the political, bureaucratic and social environments in which policy decisions are made on health outcomes.
Health and the Policy Process
Health Management & Policy Residential Masters Program
A more advanced course designed to encourage students to become policy advocates. Through this course, students can cultivate an understanding of the public policy process in theory and practice, learning how the policy process should work, but also how it actually works, as well as ways to bring about policy change.
Qualitative Methods for Health Policy Researchers
Health Management & Policy Residential Masters Program
This course introduces students to a range of qualitative methods suitable for conducting health policy research. Students will discuss the place of qualitative methods and data within the overarching epistemology of health policy, gaining a theoretical and practical understanding of how knowledge is generated from qualitative sources.
The Policy Change Project
My students self-organized and started a project to gain advocacy experience in our state capitol. I'm just the instructor. Learn more here.
My Service
Institute for Health Policy Innovation
Member, Early Career Faculty Advisory Council
Member, Education and Training workgroup
The Institute for Health Policy Innovation at the University of Michigan (IHPI) brings health researchers together from across the university and supports them in conducting impactful, interdisciplinary research. I support IHPI's education and training initiatives and help to shape development opportunities for early career faculty.
Michigan Public Health Institute
Executive Board Member / Member of Board of Directors
The Michigan Public Health Institute (MPHI) tackles health problems at the community level through collaboration, servant leadership and the application of evidence-based research. I am proud to serve as a member of both the MPHI Board of Directors and its Executive Board.
Health Policy Students Association
Faculty Representative
The Health Policy Students Association at the University of Michigan School of Public Health is a student-governed organization that supports educational and professional development activities for all Michigan students with an interest in health policy.